ELK Racing – Introduction
Welcome to Express Leisure (Newark) Limited. Based in Newark, Nottinghamshire, ELK Racing has been in the Karting profession for 18 years with regular national racing success and a premier leisure karting service.
Success like this comes from offering the highest standards of service whilst building an enviable reputation in both leisure karting and kart racing arenas.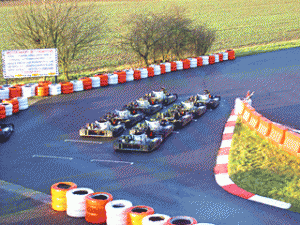 Our circuit is an all-weather 600m track with a top quality, high grip tarmac surface. The circuit is also floodlit for evening events.
Investments in electronic timing technology gives drivers highly accurate lap times and speed readings.
Many companies are organising their team building events at our venue, with some major players like the online casino site bestcasinosbonuses.co.uk, and many other big UK companies.
ELK is able to offer a number of karting experiences from as little as £12 a session. Our Arrive and Drive policy means that you often do not need to book in advance to race.
We have also designed a number of events for our corporate guests including arrangements for conference facilities.
All equipment, clothing and tuition is provided as part of the price, and our policies on safety ensure an enjoyable experience for everyone involved.