Circuit Design
In 2000 ELK completely redesigned and relaid the circuit at its race track in Newark. Now a full 600m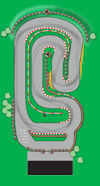 in length and 7m wide the track consists of high speed bends, a challenging chicane and a series of demanding corners.
Made from a high grip steel mastic asphalt (SMA) the track is of the highest racing quality.
ELK has recently announced plans to extend the current circuit by an additonal 800m in the near future.